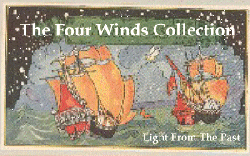 Four Winds Collection - Order Information
---
---

---
The Four Winds Collection staff will call or email you back to confirm your order. All questions concerning availability of items will be answered promptly. When confirmation of the order is received. You can now charge your order. We have made the creidt card order page password protected. We did this to insure that your item is available to meet your delivery requirements.
Send Payment to: Four Winds Collection (New Address)
P.O. Box 404
Monrovia, Maryland 21770-0404
(301) 972-1506 10am-10pm EST
email to: Four Winds Collection
Pay to the Order of Four Winds Collection.
Money Orders or Personal Checks
Allow one additional week for personal checks to clear.
Electronic funds transfer available for International Orders. (fee $40.00)
---

. . .
Credit Cards Payment - VISA, MASTERCARD and AMERICAN EXPRESS
---
---
Four Winds Home Page | Bronze Scuplture Page | Sports Memorabilia Page | Toys and Other Collectibles | Photographs | Equine Art |
---
Last Update 09/28/99

© 1995-1999 The Four Winds Collection